Under the impact of the Covid-19 pandemic, the world has experienced a year of deep uncertainty, profound changes, and major disruption. The Sino-US relations have encountered great difficulties. In the New Year with the new US government coming to power, regarding the education policy, will there be any change for the better when the new US Administration takes office? Will the education sector face new challenges?
To address these hot topics, on January 16th, 2021 (Beijing Time), the Committee on Study Abroad Services, China Education Association for International Exchange (COSA-CEAIE) and the Research Institute of International Education South-South Cooperation linked up to hold a high grade forum of "the Webinar on New Administration: What's the Next Step for Sino-US Education Cooperation? ".
Date & Time (TBC) :
09:00-11:00 am (Beijing Time) January 16th, 2021
20:00-22:00 (EST) January 15th, 2021
VENUE:
This is an online event.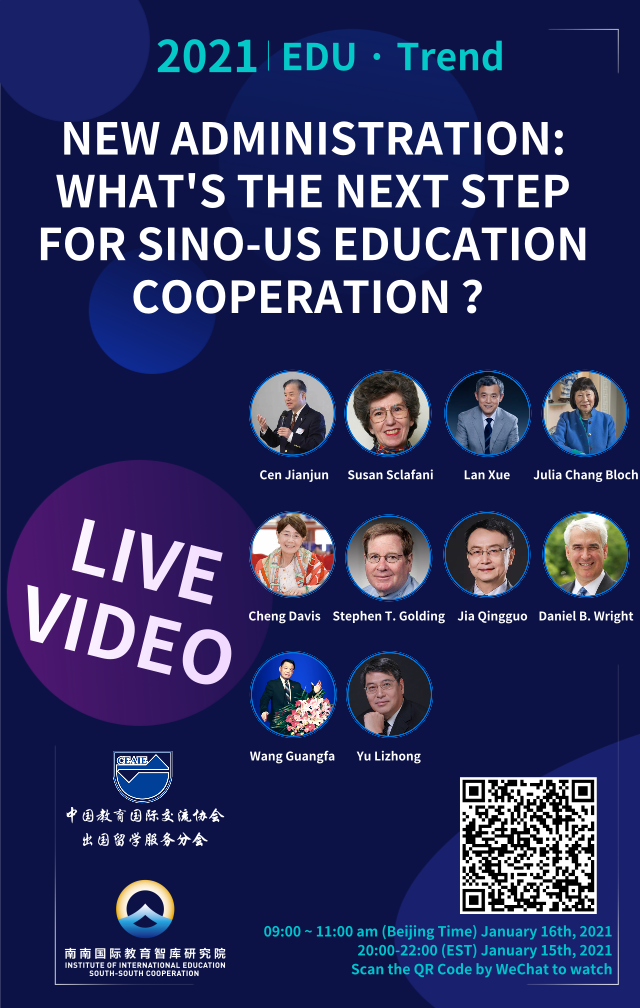 Due to the number limitation of participants by Zoom,please watch the live broadcast of this forum through the link below . Thank you for your participation and cooperation.
【English Channel】Click the link to watch the Webinar on NEW ADMINISTRATION: WHAT'S THE NEXT STEP FOR SINO-US EDUCATION COOPERATION ?
https://mr.baidu.com/r/g5n2D7j3kA?f=cp&u=b1c98c0892b8a09f
【中文频道】中美教育合作的未来展望线上论坛观看链接:
https://m.weibo.cn/7467612663/4592862841015640
OPENING REMARKS BY Mr. Cen Jianjun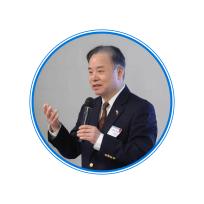 Former Minister Counselor (Education) of Chinese Embassy in the US
Former Director General of the Department of the International Cooperation and Exchange Ministry of Education Chairman Association for Study Abroad Services,CEAIE
Chief Supervisor, Beijing Royal School.
GUEST SPEAKERS:
Dr. Lan Xue

Dean, Schwarzman College, Tsinghua University

Dr. Susan Sclafani

Former Assistant Secretary for Vocational and Adult Education, U.S. Department of Education

Vice President of Forum for World Education (FWE)

Ambassador Julia Chang Bloch

The first Asian-American Ambassadress of US

President of the US-China Education Trust

Dr. Cheng Davis

Co-Founder and Chairperson of Forum for World

Education (FWE)

Special Advisor to the President of the University of Pennsylvania

Stephen T. Golding

Senior Advisor to the President of Ohio University

Executive-in-Resident at the University's Voinovich

School of Leadership and Public Affairs.

Prof. Jia Qingguo

Former Dean of School of International Relations, Peking University

Professor of Diplomacy and International Relations at Peking University

Mr. Daniel B. Wright.

Founder,President and CEO of GreenPoint Group

Mr. Wang Guangfa

Vice President of Council for Promoting South-South Cooperation

President of Beijing Fazheng Group

Chief Principal of Beijing Royal School

Mr. Yu Lizhong

First Chancellor of New York University Shanghai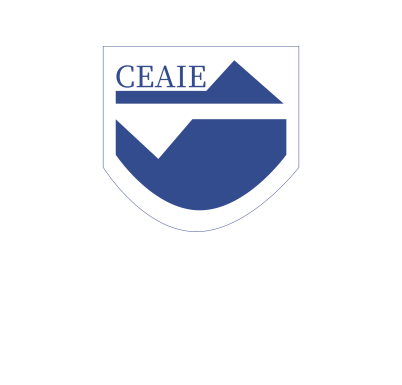 The Committee on Study Abroad Services, China Education Association for International Exchange (COSA-CEAIE)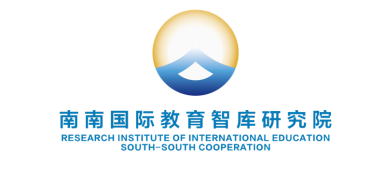 The Research Institute of International Education South-South Cooperation