Forum for World Education
Linking business leaders with thought leaders.
Transforming education for societies and their economies.
FWE Webinar | Join us for our first webinar of 2022!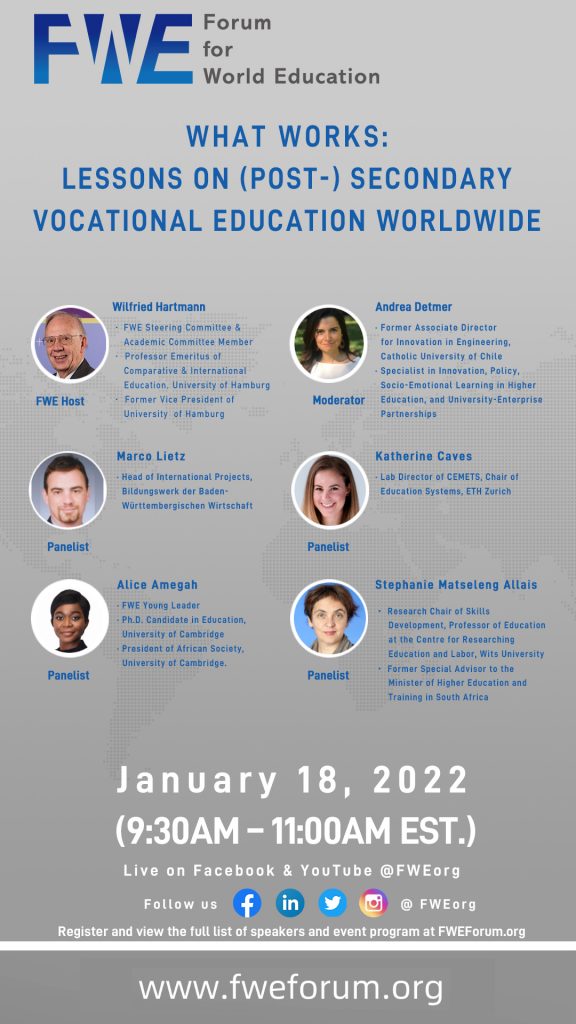 Webinar Will Explore Post-Secondary Vocational Education Worldwide as the Field Explodes
The Forum for World Education will feature experts from innovator nations; Jan. 18th, 9:30 a.m. EST
Even prior to the pandemic, industries gearing for the digital age, climate change and other challenges were rediscovering vocational education. Now, amid reduced productivity and a shrinking hiring pool, a recent report projects 10%-plus annual growth for the global vocational training market from 2021-26.
On January 18th, from 9:30 a.m. to 11:00 a.m. (EST), the Forum for World Education (FWE) will present "What Works: Lessons on (Post-) Secondary Vocational Education Worldwide," a webinar on the shift in jobs skills within and across nations; rapidly changing skills requirements for jobs; and the imperative to improve equity in opportunities and outcomes. For more information, register to participate on Zoom or watch a live stream go to the FWE Website.  You can also tune in live on the FWE YouTube Channel or FWE Facebook.  Please don't forget to follow us on social media '@FWEorg' for news and upcoming events.
"What Works" is the 14th in a series of FWE webinars focused on education and the workforce. Speakers such as Linda Darling-Hammond, President of the Learning Policy Institute, former West Virginia Governor Bob Wise, Madan Padaki, Managing Trustee of India's Head Held High Foundation, and Donna Shalala, former U.S. Secretary of Health and Human Services, have explored education in a post-COVID world, business approaches to preparing employees, and the findings of global skills assessments, and more. Click here for more on past FWE webinars.
"What Works" will be introduced by FWE Academic Committee member Wilfried Hartmann, Professor of Education Emeritus, University of Hamburg, and moderated by Andrea Detmer, former Associate Director for Innovation in Engineering at the Catholic University of Chile, and a specialist in innovation, policy, socio-emotional learning in higher education, and university-enterprise partnerships.
The panel of speakers features experts in vocational education from four innovator nations:
Marco Lietz, Head of International Projects, Bildungswerk der Baden -Württembergischen Wirtschaft, the Employer´s Training Association of Baden-Württemberg, a southwestern state in Germany. Lietz will discuss innovative models of vocational education and training partnerships in different nations.
Alice Amegah, education Ph.D. candidate and President of the African Society, University of Cambridge and founder of Education and Aspirations Hub, a nonprofit to prepare young people for education and work transitions. Amegah will discuss technical & vocational training in developing regions of the world.
Katherine Caves, Lab Director, Center for the Economics and Management of Education and Training Systems (CEMETS) at the Chair of Education Systems at the Swiss Federal Institute of Technology in Zurich, Switzerland. Caves will discuss the economic and institutional infrastructure of strong vocational education and training (VET) systems worldwide.
Stephanie Matseleng Allais, Research Chair of Skills Development and Professor of Education, Centre for Research Education & Labour, University of Witwatersrand, South Africa, and author of Knowledge, Curriculum and Preparation for Work (Brill/SENSE 2018) and Selling Education Out: National Qualifications Frameworks and the Neglect of Knowledge (Sense, 2014). Allais will share lessons from vocational training experiences in South Africa.
Launched in 2019, the Forum for World Education is a nonprofit that convenes leaders in education, industry and government in an ambitious and far-reaching conversation about the future of inclusive education, the workforce, societal progress and a sustainable world.
Please find all of our previous webinars on demand on the FWE YouTube Channel and follow us on FWE Facebook for updates and news.
Bringing Learning into the 21st Century 
The Forum for World Education is brokering a unique cross-sector conversation to rethink education for a new era
"The world is changing so fast – the industrial period has ended and the digital period is here, so we need to rethink education entirely."