Forum for World Education
Linking business leaders with thought leaders.
Transforming education for societies and their economies.
FWE Webinar | Join us for our second webinar of 2022!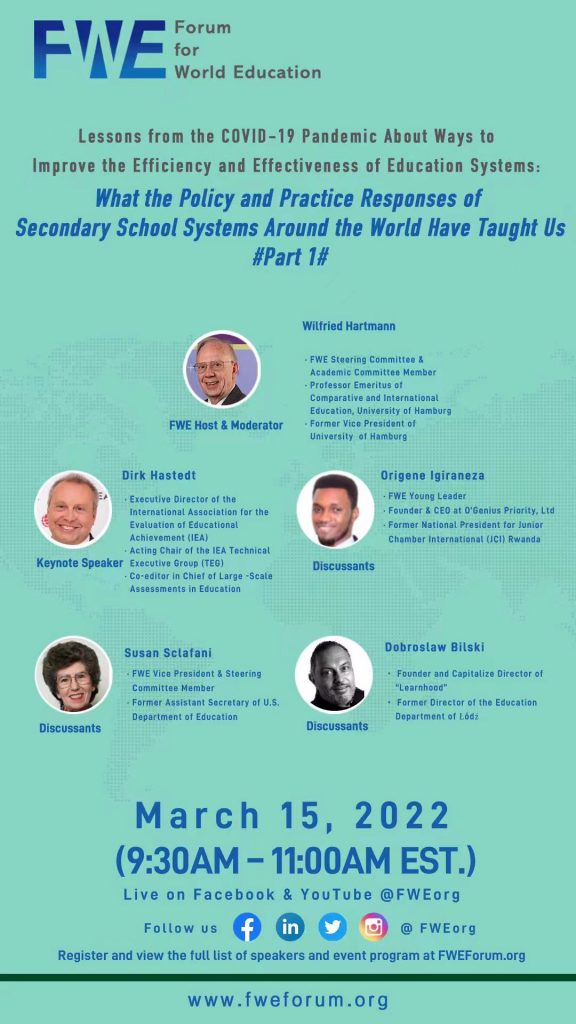 Part 1: 
Lessons from the COVID-19 Pandemic About Ways to Improve the Efficiency and Effectiveness of Education Systems
Topic: What the Policy and Practice Responses of Secondary School Systems Around the World Have Taught Us
Abstract: The Forum for World Education is conducting three successive webinars focused on what we have learned from the COVID-19 pandemic. This first of the three webinars will focus on the UNESCO/IEA report on what happened during the first year of the pandemic– the impact on lower secondary students and teachers, and insights for policymakers regarding how to prepare for and respond to future crises. The report draws on data from education systems in Africa, Asia, Arab region, Europe, and Latin America. Our keynote speaker will focus on learnings that can be drawn from internationally comparable studies, shedding light on some key findings from IEA studies that have been conducted in the context of the COVID-19 pandemic and what they can tell us about the future of education.
More information about this event can be found at the following link: https://www.fweforum.org/event/part-1-what-the-policy-and-practice-responses-of-secondary-school-systems-around-the-world-have-taught-us/
CLICK HERE TO REGISTER FOR ZOOM
Watch Live on YouTube – https://youtu.be/QYd9v2GnVuM
Themes:
▪ The foundational role of resilience
▪ Sharing and committing to what is known to work
▪ Committing to building and using evidence, engaging in meaningful dialogue, and cooperating with myriad stakeholders
Introduction:
▪ Wilfried Hartmann
FWE Steering Committee & Academic Committee Member; Professor Emeritus of Comparative and International Education, University of Hamburg; Former Vice President of University of Hamburg
Keynote Speaker:
▪ Dirk Hastedt Executive Director of the International Association for the Evaluation of Educational Achievement (IEA); Acting Chair of the IEA Technical Executive Group (TEG); Co-Editor in Chief of Large-Scale Assessments in Education
Discussion:
▪ Origene Igiraneza
FWE Young Leader; Founder & CEO at O'Genius Priority, Ltd; Former National President for Junior Chamber International (JCI) Rwanda
▪ Susan Sclafani
FWE Vice President & Steering Committee Member; Former Assistant Secretary of U.S. Department of Education
▪ Dobroslaw Bilski
Founder and Capitalize Director of "Learnhood"; Former director of the Education Department of Łódź
Follow FWE on Social Media:
* FWE LinkedIn Page – linkedin.com/company/fweorg
* FWE Facebook Page – facebook.com/fweorg
* FWE Instagram Page – instagram.com/fweorg
* FWE Twitter Page – twitter.com/fweorg
Contact FWE – [email protected]
Please find all of our previous webinars on demand on the FWE YouTube Channel and follow us on FWE Facebook for updates and news.
Bringing Learning into the 21st Century 
The Forum for World Education is brokering a unique cross-sector conversation to rethink education for a new era
"The world is changing so fast – the industrial period has ended and the digital period is here, so we need to rethink education entirely."