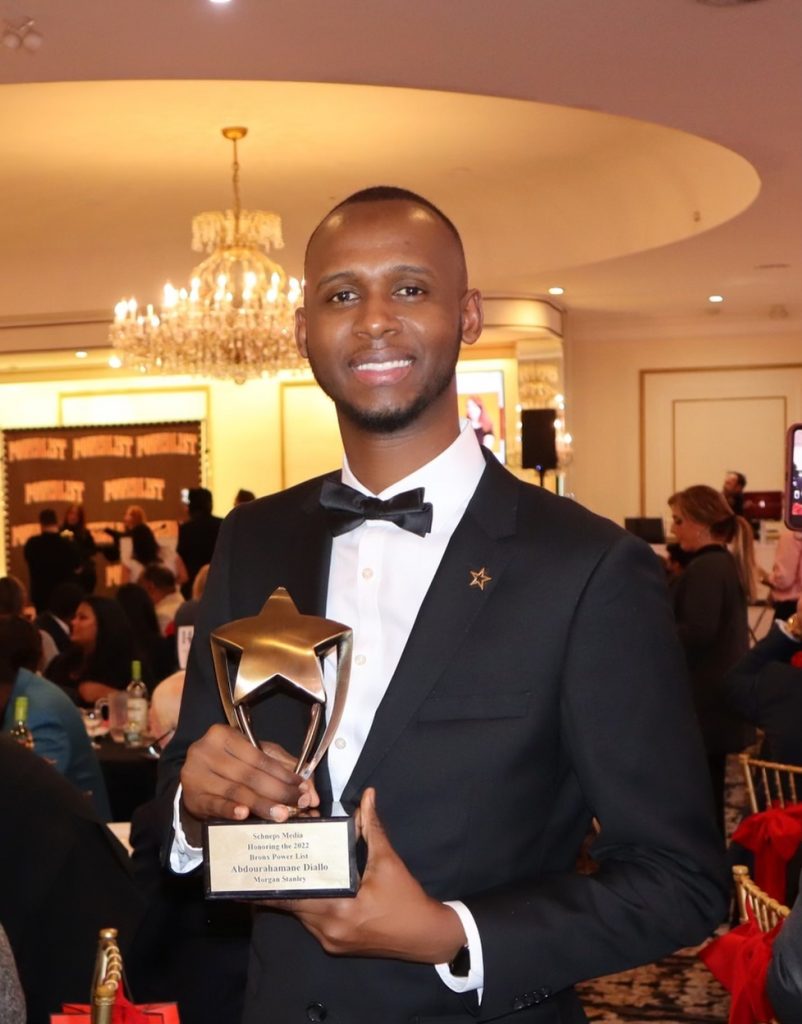 Diallo has been recognized as one of the Bronx's most influential and powerful people. The Bronx Power
List recognizes your ongoing commitment, impact, and influence as one of the borough's most
influential movers and shakers.
Diallo is a trained economist and geopolitical strategist. He currently works as a geopolitical and
macroeconomic scenario designer for one of Wall Street's most prestigious investment banks. Diallo
previously worked for BlackRock Inc., the US Department of Commerce, JP Morgan Chase, the US
Department of Census, and Aster Impact.
Diallo has a bachelor's degree in finance and investment from Baruch College as well as a Leadership
and Strategy Impact Certificate from Columbia University. Before attending Baruch, he studied law for
two years at La Source University and political science for another two years at John Jay College. Diallo is
the first Guinean American and Baruch student to be awarded a Schwarzman Scholars fellowship at
Tsinghua University, one of the most competitive leadership programs in the twenty-first century, where
he earned a Master of Science in economics with a focus on poverty alleviation.
Diallo is a distinguished public servant with over ten years of demonstrated leadership experience. A
leader who uses his power and resources to help others He is the founder and chairman of Guineans
Succeeding in America (GSA), an umbrella organization that now includes the Guinean Students
Association and the Guinean Graduates. GSA currently reaches thousands of people, assisting hundreds
of students and young professionals in obtaining internships and full-time jobs through mentorship and
professional development workshops. He is the founder of the Guinean New Generation Movement
(GNGM), which seeks to empower the Guinean community through social justice, civic engagement, and
economic development. Diallo also co-founded and served as the African Empowerment Project's
director of community outreach in New York City.
During the COVID-19 pandemic, Diallo mobilized GSA resources and coordinated online tutoring sessions
for students, assisting hundreds of people in filing for unemployment while spending hours on the
ground weekly distributing personal protective equipment and food to thousands of families in the
community. GSA was presented with an award by then-Brooklyn Borough President Eric Adams, the
current Mayor of New York.
Driven by his keen desire to find solutions to the challenges facing his community. Diallo took a bold step
and ran for the 16th New York City Council District in 2021. His campaign platform advocated for a safer
and more prosperous Bronx. As an African immigrant, he wished to advance the African community.
Despite not being elected, Diallo set the tone and paved the way for future generations of young
Africans.
Prior to running for city council, Diallo was the general secretary of Bronx Borough President Ruben Diaz
Jr.'s African Advisory Council, where he played a role in the council's advocacy efforts to address the
needs of the African community and bring progress. In 2018, he was appointed to the Bronx Community
Board 3. Fast forward to 2020, when Diallo was elected to the Bronx Democratic Party County
Committee for District 79th to continue his tireless efforts and commitment to the Bronx community.
Diallo immigrated to New York from Guinea-Conakry, West Africa, in order to maximize his potential.
Since then, he has strived for the stars while bringing his community with him. Serving others is his way
of life, and he lives by the maxim, "Rather live one day and change 100 lives than live 100 years without
helping a single soul." He speaks five languages, plays soccer, and has a red belt in taekwondo.