Setting out on your adventurous journey with courage and confidence:
Editor's note:
The graduates of 2020 at Beijing Royal School experienced a special graduation season due to the COVID-19 pandemic.
Aiming to provide a comprehensive education that cultivates the intellectual talents, train future leaders with moral integrity and prepare students with global vision, BRS witnessed its graduates of 2020 with success. They have received 1047 offers from world-class universities. The number of the offers has set a new record in BRS' history. As the chief principal, Mr. Wang Guangfa delivered a speech of congratulations and encouragement, with his best wishes to the graduates of 2020 on June 7.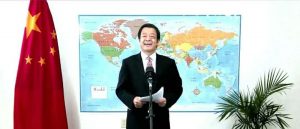 My fellow teachers and students,
Dear parents, ladies and gentlemen,
Good morning!
I miss you so much, my dear students at Beijing Royal School. It is indeed a pity that I am on the other side of ocean beyond miles and cannot come to join you for this commencement because of the difficulty in obtaining an air ticket. I hereby ask Mr. Cen Jianjun to host the ceremony and confer diplomas on my behalf.
Today's graduation ceremony is held in Chinese traditional style, with a cheerful and heartfelt warm atmosphere. The time-honored Hanfu clothing is decent and dignified, demonstrating the essence of Chinese etiquette. It is also a manifestation of the mission of Beijing Royal School—to inculcate moral values, focus on student-centered education, fuse Chinese & Western approaches, and inspire students to succeed.
My dear students, today is your day. It is filled with happiness and pride, and will remain in your memories forever. I hereby send you my warmest congratulations!
I feel happy for you wholeheartedly, not only for the reason that you've received offers from world's leading universities, but also for what I've witnessed. I have witnessed the profound changes you experienced during the past three years at BRS.
First and foremost, you have been safe and sound; and you have grasped the "Four Pillars of Education" proposed by UNESCO,learned to perceive the world from an international perspective, knowing that there are always new ideas and new solutions to pull yourself out of multiple difficulties.
Knowledge changes your destiny, and education shapes your future. Though hard work will continue, I know you are determined to set out for your destination.
My dear fellow students, as you've turned 18 this year, I hope that you can develop a strong commitment to your country and to the world; take an unbiased stand at the changes and conflicts both home and abroad.
In the past decades, China has undergone a world of changes and development. But recent disputes and conflicts in regional, bilateral and multilateral circumstances have presented you with new challenges. While the international community shares the dividend brought about by China's rise and development, countries with different political ideologies may feel worried or even uneasy in global competitions.
The sudden outbreak of Covid-19 has changed the world. It didn't take too long before the situation in China made a favorable turn thanks to our collective efforts and wisdom. As the pandemic shook the world, China never hesitated to share its experience and send its support to the rest of the world despite different voices.
On the other hand, factors such as unilateralism and racism emerged. Big power games and conflicts, bilateral and multilateral relations, difficulties and disputes arising in politics, economics, technologies, talents, education and the rule of law, all lead to a reshuffle of the international order.
Within China, the society is also undergoing substantial changes. We embraced the returns of Hong Kong and Macau in 1997 and 1999, and we aspired to further unification of the Chinese nation. The Anti-Secession Law adopted in 2005 and the National Security Legislation on HKSAR ratified at NPC and CPPCC meetings in 2020 both lay a solid foundation for China's long-term peace and stability. When faced with uncertainty, I hope that you keep calm, take an unbiased perspective and make sound judgment.
There is sure to be hardship ahead, but openness, objectiveness and inclusiveness are our best weapon against all difficulties. When you set out on your adventurous journey, let courage and confidence be your armor; whether you are determined to explore businesses or further into academia, be the change you want to see in the world. As long as you stay poised and fight your way out of the darkest storms, sunshine will always follow.
My dear students, what you have learned today enables you and empowers you to be equipped with skills needed. It enables you to make contributions to our country in the future, and empowers you for global citizenship and the role to tell China's story to the world.
As online education has become a common practice, no matter online or offline learning, it is essential to embrace the transformation fueled by the power of technology. I hope that you will continue to work hard in universities and get ready to meet new challenges arising from new methods and new concept of education.
It is my hope that you are always motivated for what you are prepared to achieve, and I have every reason to believe that in 20 years you will become the backbone of society. Remember that BRS will always be open for you. I wish you every success in the future, and live a meaningful life to yourself, to our country, and to the world.
My best wishes to you all, dear fellow students, and wish today's graduation ceremony a complete success. Thank you!
About Wang Guangfa, Doctor of Laws, Chief Principal of Beijing Royal School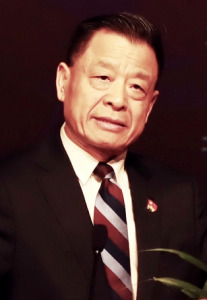 He is an educator and entrepreneur who has devoted himself to education for decades. He also plays an active role as a co-founder of the Forum for World Education (FEW), a non-profit world organization aiming to transform education systems to better equip the new generation with the knowledge, skills and mindset for a challenging and rapidly changing world.
Mr. Wang is the vice chairman of Board of Trustees of Institute for Governance Studies at Tsinghua University and also a guest professor of University of North Carolina at Chapel Hill and China's chief consultant in the Assessment and Qualifications Alliance.