FWE Webinar | What is PIAAC and what can it tell us about the importance of skills?

FWE Webinar | What is PIAAC and what can it tell us about the importance of skills?
September 21, 2021 @ 9:30 am
11:00 am
UTC-4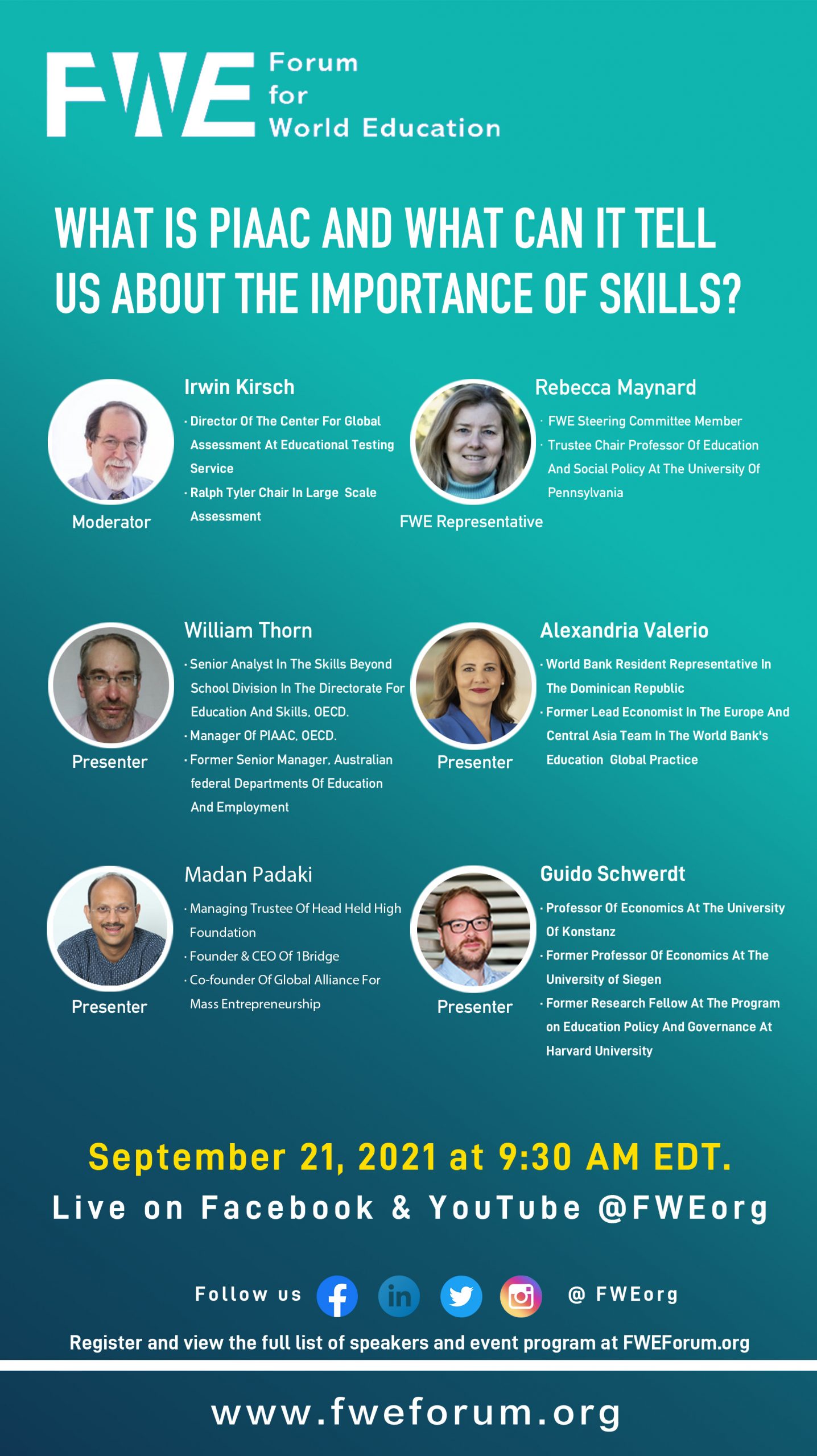 Date: September 21st, 2021 Time: 9:30 am – 11:00 am EST (UTC-4)
Watch Webinar:
Presentations:
Topic: What is PIAAC and what can it tell us about the importance of skills?
Abstract: During the past 60 or so years we have seen a significant growth in the number of large-scale international assessments, including the development of PIAAC or the Programme for the International Assessment of Adult Competencies by the OECD.  PIAAC represents the most recent and largest international survey of adult skills and along with other school-based studies provides a growing recognition of the importance of education and skills to social and economic development.  Over the last several decades as globalization and technology have accelerated the economic dependencies among countries, PIAAC and other surveys have contributed not only to new technologies and methodologies but also to the range of information that policy makers and other key stakeholders have about the distribution of skills and their connections to both economic and non-economic life outcomes.   This seminar will discuss what PIAAC measures in terms of the coverage of relevant constructs in both cognitive domains and in terms of background information. As a technology-based assessment, PIAAC also reflects the growing relevance and use of digital devices as they increasingly reflect the ways in which various groups of adults access, use and communicate information.  Presenters will also discuss examples of how this information is being used to further understanding and improve policies in both developed and developing economies.  Presentations will be followed by a discussion period among presenters and with those virtually attending the seminar.   Structure:
Build around PIAAC

What it is, what it measures

What results show both in terms of distributional characteristics and levels of inequality

To what extent do these skills relate to both economic non-economic outcomes

Related issues for discussion

As PIAAC is developed and delivered on a digital device (Tablet) are digital skills now part of the construct or do they, as some suggest, contribute to construct irrelevant variance to the measurement

Should we focus on training the current generation of prime working age adults and/or on those transitioning into adulthood?

Will foundational skills like those assessed in PIAAC remain important in the future given the advances in AI and technology?

What types of investments should we make to address current literacy levels in adults?  Are they different for developed and developing countries?