FWE Webinar | Supporting Public Education in the U.S.

FWE Webinar | Supporting Public Education in the U.S.
July 13, 2021 @ 9:30 pm
10:30 pm
UTC-4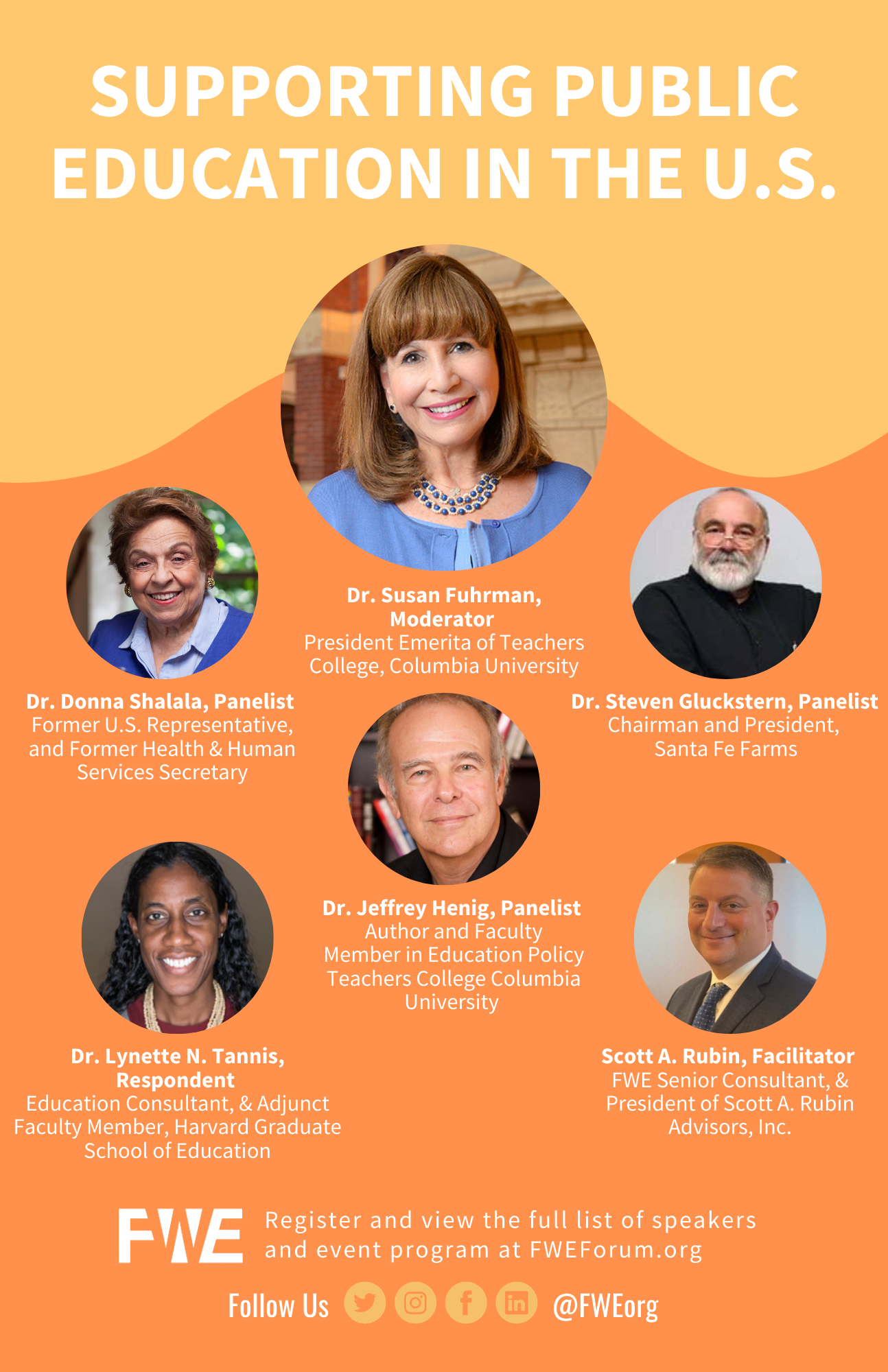 Date: July 13th, 2021
Time: 9:30 pm – 10:30 pm EST (UTC-4)
Supporting Public Education in the U.S.
Join us for an in-depth discussion on supporting U.S. public education with thought leaders in business, government, and higher education. Led by President Emerita of Teachers College, Columbia University, Dr. Susan Fuhrman.
Watch Webinar:
Watch the U.S. trailer video:
Watch the China trailer video:
Speakers
Register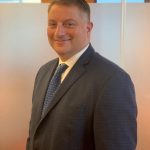 Scott Rubin
FWE Senior Consultant, President of Scott A. Rubin Advisors Inc.
With 25 years of experience in higher education leadership, Scott A. Rubin brings a comprehensive approach to strategic fundraising, operations and budget management, external communications, social media strategy, board and volunteer relations, proposal writing, campaign planning, and advancement services and analytics. As the president of Scott A. Rubin Advisors, Inc., he works closely with hospitals, colleges and universities, non-profits, and private and independent schools to assist these institutions in maximizing their potential for fundraising growth through detailed reviews of prospect pools, data analysis and modeling, donor strategy and moves management, board, alumni, and volunteer engagement, and social media/digital communication optimization.
For nearly 12 years, he served as assistant vice president for Development & External Affairs at Teachers College (TC), Columbia University, where he led the Prospect Management & Research, Corporate & Foundation Relations, International Fundraising, Advancement Services, and Development Operations teams; carried a portfolio of local and international prospects; and coordinated the intersection of External Affairs, Alumni Relations, and Development as chief of staff for the department. While at TC, Scott collaborated on a strategy framework, proposal pipeline, and CASE standards-aligned reporting structure for TC's Where the Future Comes First campaign, which raised more than $345 million; established and fostered a network of Brazilian non-profits, donors, philanthropists, policymakers, and alumni resulting in more than $8 million in gifts, grants, and contracts; wrote successful proposals for seven and eight figure gifts, as well as managed and solicited a prospect pool of 75 individuals, parents, and organizations; envisioned and implemented a suite of data analytics and data visualization reports to provide daily, weekly, and monthly reporting on key performance indicators in annual giving, planned giving, overall fundraising, and alumni engagement; and instituted a comprehensive database review and data integrity system, and established Teachers College's first moves management system to track, project, and predict fundraising potential.
Prior to TC, Scott was manager of College Resources at Sarah Lawrence College, where he oversaw operations, advancement services, and foundation relations. He began his career at Marymount Manhattan College, initially as an admissions counselor, and then progressing to additional responsibilities as associate director of External Relations and Enrollment Management. He is a graduate of Wesleyan University, with a dual degree in English and Medieval Studies.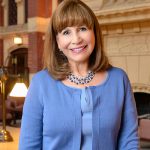 Dr. Susan Fuhrman
President Emerita of Teachers College, Columbia University
Susan Fuhrman is President Emerita of Teachers College, Columbia University, founding Director of the Consortium for Policy Research in Education (CPRE), and Past-President of the National Academy of Education. Dr. Fuhrman's substantial leadership track record includes her term as Dean of the University of Pennsylvania's Graduate School of Education from 1995-2006, where she was also the school's George and Diane Weiss Professor of Education. Dr. Fuhrman was influential in creating a new university-assisted public school as part of Penn's West Philadelphia improvement initiative. Similarly, the Teachers College Community School and an education and social services partnership with a number of other public schools bring University leadership for neighborhood school improvement to West Harlem.
Dr. Fuhrman is a member of the Board of Governors of the Pardee RAND Graduate School and the American College of Greece; she serves on the Board of Directors of the Goldie Hawn Foundation and is an advisory board member of Camino Education, Brazil. She serves as a Senior Fellow of U3Advisors, a consultancy providing real estate and economic development solutions to community anchor institutions and is a member of McGraw-Hill Education's Learning Sciences Advisory Board.  She serves as a member of the Societal Experts Action Network (SEAN), created by the National Academy of Sciences to respond to Covid-19 related challenges. Dr. Fuhrman is also a former Vice President of the American Educational Research Association as well as a former Trustee Board member of the Carnegie Foundation for the Advancement of Teaching. She served as a non-executive Director of Pearson plc, the international education and publishing company from 2004-2013.
Dr. Fuhrman received undergraduate and graduate degrees in history from Northwestern University and a Ph.D. in political science and education from Teachers College and Columbia University. Her research focuses on enhancing the quality of education research, accountability in education, intergovernmental relationships, and standards-based reform, and she has written widely on education policy and finance.  Her recent work has been focused on the role of evidence in the educational technology sector. Dr. Fuhrman's work has been recognized by a wide variety of international, national, state, and local organizations.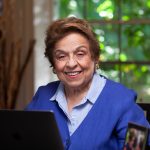 Dr. Donna Shalala
Former U.S. Representative, and Former Health & Human Services Secretary
A distinguished educator, she was President of the University of Miami (2001-2015), Chancellor of the University of Wisconsin-Madison (1987-1993), and President of Hunter College of the City University of New York (1980-1987). One of the most honored academics of her generation, she has been elected to seven national academies including the National Academy of Medicine, the National Academy of Education and the American Academy of Arts and Sciences. She has more than five dozen honorary degrees from American and International Universities. She is also a member of the Council on Foreign Relations.
One of the country's first Peace Corps Volunteers, her public service also includes serving as Secretary of the US Department of Health and Human Services in the Clinton administration for eight years, and Assistant Secretary for Policy Development and Research in the Carter administration. She also represented Florida's 27th District which includes most of Miami.
In 2008 President George W. Bush selected her as the recipient of the Presidential Medal of Freedom, the Nation's highest civilian award. She was named "America's Best Leaders" by U.S. News & World Report (2005), received the Nelson Mandela Award for Health and Human Rights (2010), and was inducted into the National Women's Hall of Fame (2011). Congresswoman Shalala received her A.B. from Western College for Women and her PhD from Syracuse University.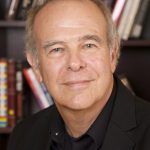 Dr. Jeff Henig
Author and Faculty Member in Education Policy at Teachers College
Professor of Political Science and Education at Teachers College and Professor of Political Science at Columbia University. He's an elected fellow of the American Educational Research Association and a member of the National Academy of Education. Among his books related to education politics are: Rethinking School Choice:  Limits of the Market Metaphor (Princeton, 1994); The Color of School Reform: Race, Politics and the Challenge of Urban Education (Princeton, 1999), named by the Urban Politics Section of the American Political Science Association as the "Best book written on urban politics" in 1999; Building Civic Capacity: The Politics of Reforming Urban Schools (Kansas, 2001), named by the Urban Politics Section of the American Political Science Association as the "best book written on urban politics" in 2001; and Spin Cycle: How Research is Used in Policy Debates Russell Sage (2008), winner of the American Educational Research Association "Outstanding Book" award.  His most recent book, co-authored with Rebecca Jacobsen and Sarah Reckhow, is Outside Money in School Board Elections: The Nationalization of Education Politics (2019).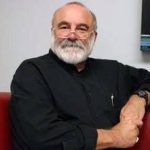 Dr. Steven Gluckstern
Current Chairman and President of Santa Fe Farms
Santa Fe Farms is led by Steven Gluckstern, EdD, MBA, Founder, Chairman and CEO of Santa Fe Farms. With over 35 years of business experience ranging from founding start-ups to managing multibillion dollar corporations, Steven has previously served as CEO, Chairman and Board Member of public (NYSE/AMEX/NASDAQ) and private companies as well as numerous, non-profit and governmental organizations. Appointed by the Governor in 2019, he currently serves as the Chair of the New Mexico Education Retirement Board which oversees the Trust's $13+ Billion in Assets. Steven holds an MBA from Stanford University (where he was an Arjay Miller Scholar) as well as multiple degrees from each of Amherst College and the University of Massachusetts (including Honorary Doctor of Humane Letters degrees from both institutions.)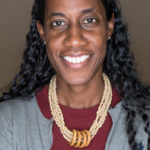 Dr. Lynette N. Tannis
Education Consultant & Adjunct Lecturer on Education, Harvard Graduate School of Education
Details
Date:

July 13, 2021

Time:

9:30 pm10:30 pm

UTC-4

Event Category: