FWE Webinar | Lessons from the COVID-19 Pandemic About Ways to Improve the Efficiency and Effectiveness of Education Systems: Part 2: Challenges, Responses and Lessons for the Future

FWE Webinar | Lessons from the COVID-19 Pandemic About Ways to Improve the Efficiency and Effectiveness of Education Systems: Part 2: Challenges, Responses and Lessons for the Future
April 19, 2022 @ 9:30 am
10:45 am
UTC-4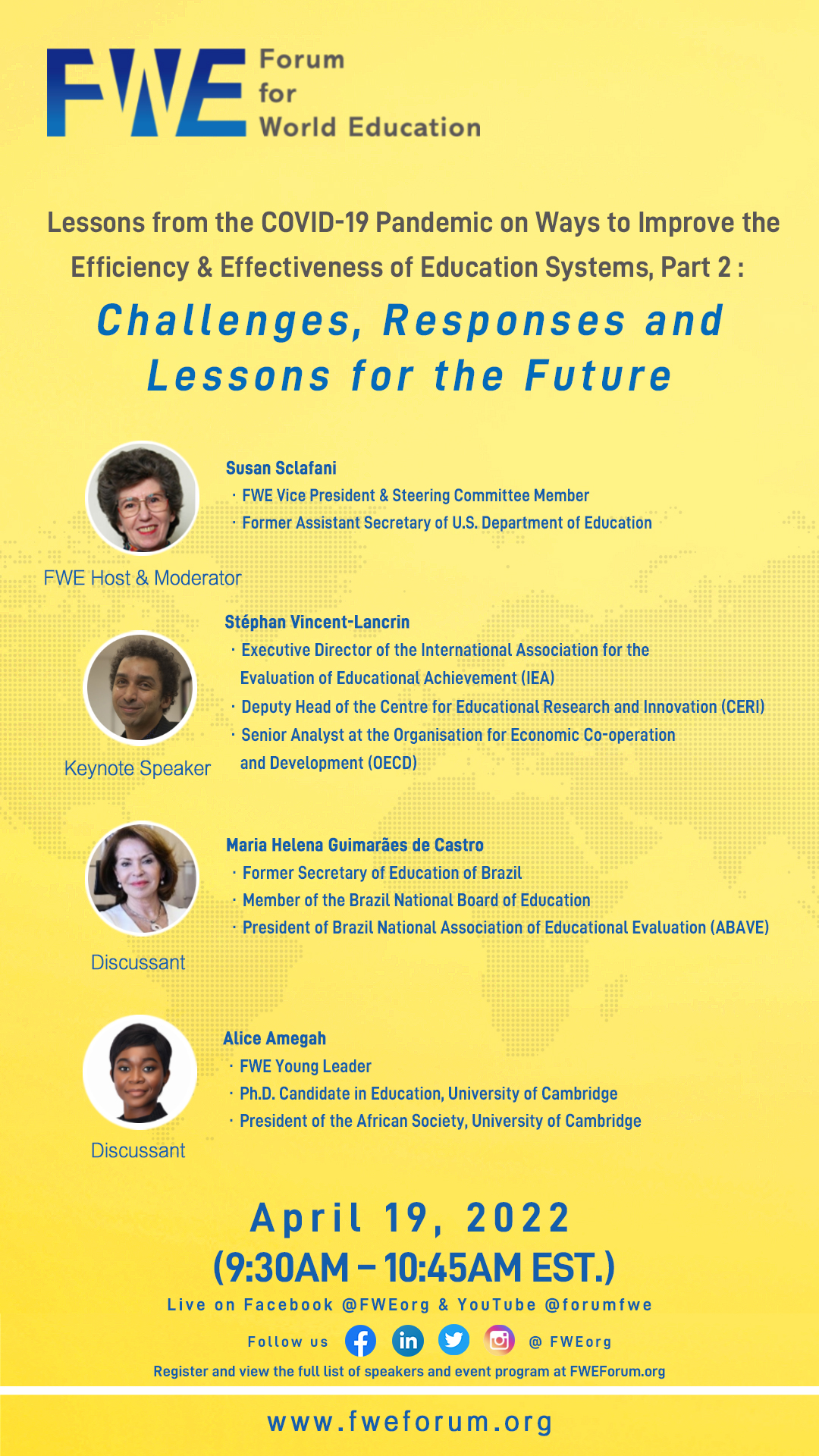 Date: April 19th, 2022
Time: 9:30 am – 10:45 am EST
Topic:
Lessons from the COVID-19 Pandemic on Ways to Improve the Efficiency & Effectiveness of Education Systems, Part 2: Challenges, Responses and Lessons for the Future
Click Here for Webinar Registration
Watch Webinar:
Abstract:
The Forum for World Education is conducting three successive webinars focused on what we have learned from the COVID-19 pandemic. This webinar will center on the experience and outcomes of school children and what we learned that will help create more robust and effective education systems around the world.  We focus on a recent report issued by
OECD
on what happened during the first year of the pandemic in terms of the learning challenges faced by children, the responses of educators, and the education tools and strategies that may prove instrumental in designing a stronger, more resilient education eco-system for the future. This report draws on data from education systems in low, middle and high-income countries across five continents.
Themes:
Educational experiences of children during the first wave of COVID-19
Changes in the home environments of children during this period
Educational experiences & outcomes for children
Policy responses to the learning challenges caused by the pandemic
Promising lessons to build on or integrate into future policies & practices
Presentations:
Program
Speakers
Register