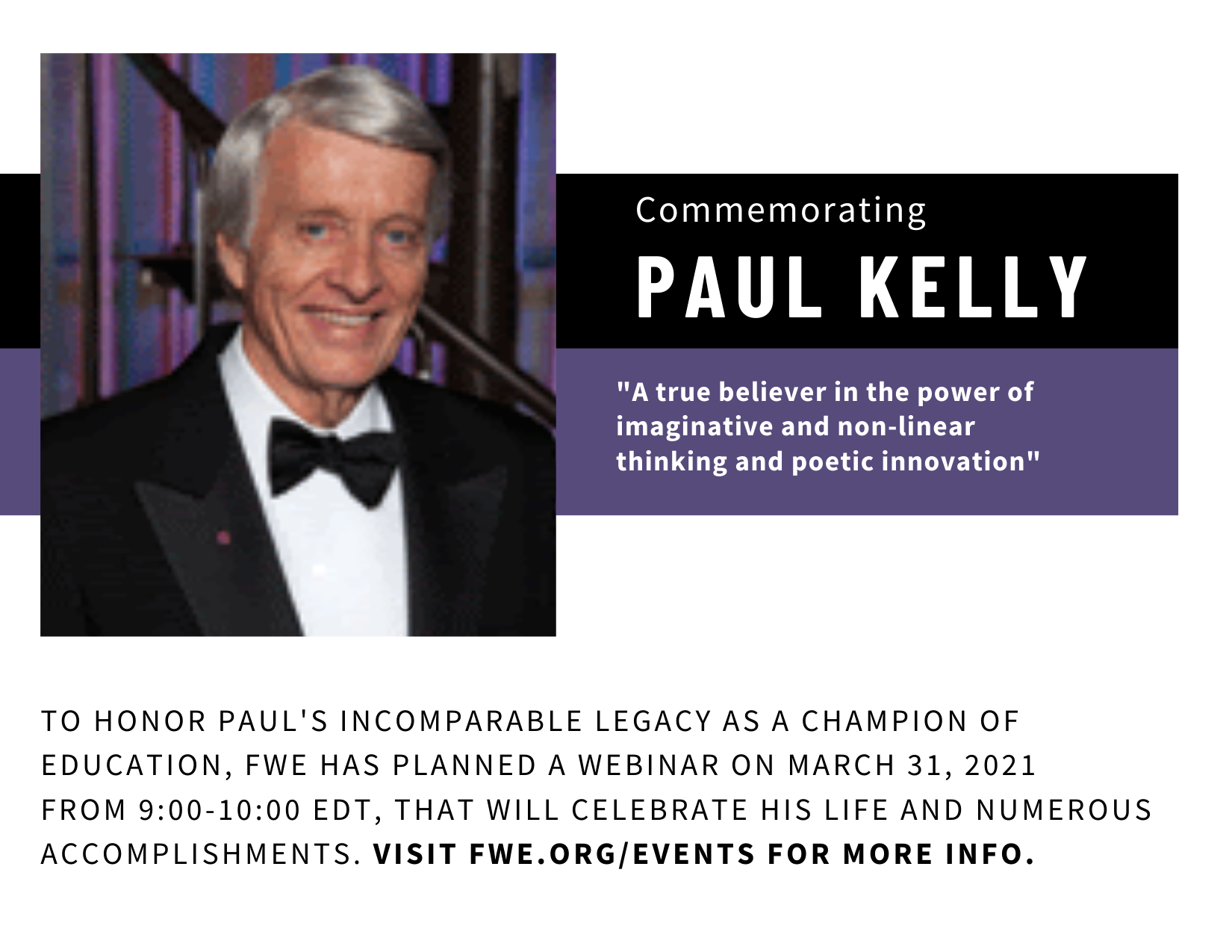 Paul K. Kelly Memorial Webinar
March 31, 2021 @ 9:00 am
10:00 am
UTC-5
Date: March 31st, 2021
Time: 9:00 am EST (UTC-4)
It is with deep sadness and regret that we announce the passing of Paul K. Kelly, one of Forum for World Education's founders. Paul was an inspirational leader and dedicated philanthropist, having served as a pioneer in the field of international finance and a generous board member at the University of Pennsylvania, the New York Film Academy, the Yale Cancer Center, and the MIT Collaborative Initiatives. Moreover, he was staunch supporter of the University of Auckland in New Zealand, particularly its Business School and programs for indigenous students, and served as co-chairman of the Academic Advisory Board of the Western International School of Shanghai (WISS), a leading international school in Shanghai.
His career was marked with distinction at numerous multinational companies and corporations, most recently serving as the President and CEO of Knox & Co. At the forefront of his field, he has frequently been identified with the introduction of novel financing concepts to the capital markets, including such financing techniques as commercial paper issuance and publicly-issued preferred stock for bank holding companies; short-term collateral trust notes for mortgage banking companies; floating-rate notes convertible into fixed-rate debentures in the United States and Europe; and the computerized book order entry system for syndicating publicly-traded certificates of deposit sold to individuals. In addition to his innovative approaches to cross-border finance, he shared his business acumen as a director on numerous corporate boards, as a writer for professional publications, and an expert frequently called upon by the media.
From 2003 through 2019, Paul traveled around the world as an ambassador of the powerful idea that education is the primary driver of financial development and economic vibrancy. With more than 100 trips to China, Thailand, Japan, Qatar, UAE, and Kuwait, among many other countries during that period, he was a frequent lecturer in his field, but more importantly he was a trusted advisor to presidents, royal families, governors, mayors, and college presidents. He shared with these decisionmakers his commitment to education, and through his influence, impacted the lives of countless numbers of students and their families across the globe through the strength of that vision.
In collaboration with Dr. Cheng Davis and Guangfa Wang, Paul helped establish the Forum for World Education (FWE) in 2018, with the goal of bringing together researchers, educators, policymakers and business leaders to "transform education in answer to the skills and knowledge requirements of current and future global society, its economic growth, societal progress and sustainability." Their shared vision, strategic thinking, and unparalleled advice have been instrumental in advancing FWE's mission, and as a central figure in its conception, Paul's vision and dedication to the Forum's mission will be sorely missed.
Mr Paul K. Kelly at FWE's first planning meeting in Beijing in 2018
This memorial video was provided by the Western International School of Shanghai (WISS) – https://www.wiss.cn/

(
Direct View Link – Click Here
)
Watch – FWE | Paul K. Kelly Memorial Webinar – LIVE March 31st @ 9:00am EST (UTC-4)