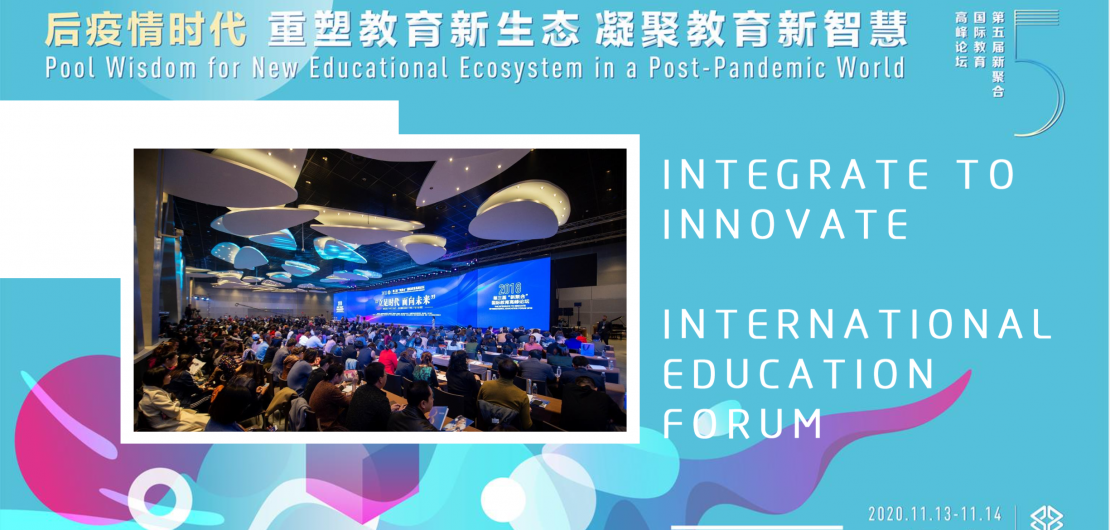 Date:November 13th-14th 2020
Venue:For health purposes, the Forum will be live streaming online and have selective offline sessions.
Theme:Pool Wisdom for New Educational Ecosystems in a Post-Pandemic World
In the year of 2020, the unpredicted COVID-19 turned the world upside down, bringing global education to disorder. Social isolation and government restrictions caused by the pandemic have brought a huge impact on international education, yet they have also encouraged the swift upgrading and popularization of new education models, methodology and technology. To respond to the change in social circumstances, China's education system and teaching practice reformed and evolved, allowing an online & offline hybrid teaching model to thrive during the pandemic, and foreseeably a new normal in a post-pandemic world.
In a post-pandemic era where Internet has become a venue for education, study abroad takes more forms. At the same time, a large number of returnees with international background come into the job market, which has attracted the attention of employers. The pandemic has not slowed down China's determination to further open up our education to the outside world. In June 2020, China's Ministry of Education issued a document on further implementing the opening up strategy in education, boosting people's confidence in international education and communication, in future development of educational joint ventures, as well as allowing for more possibilities for people who have international education background.
Within a crisis, there are seeds of opportunity. The 2020 Integrate to Innovate international education forum aims at exploring those possibilities, pooling wisdom for a new educational ecosystem in a post-pandemic world.
Introduction of Innovate Education International Forum:
The Integrate to Innovate Education International Forum is an international education event initiated by Fazheng Group with the support of China Education Association for International Exchange (CEAIE) and the Ministry of Education's National Center for School Curriculum and Textbook Development. It has been held annually since 2016. Adhering to the concept of innovation, global focus and joint development, the Forum is committed to strengthening the connection between professionals across all fields and promoting exchanges and cooperation in international education.
Since 2016, the 1st to 4th sessions of Integrate to Innovate International Education Forum were held in Beijing, Chengdu and Dalian respectively. Throughout the years, the Forum has grown steadily, and established itself as an inclusive platform for cross-border communication and collaboration with its well-structured sessions of keynote speeches, panel discussions, event launchs, report release, education exhibition and school visits.
On the first four sessions, over 200 guest speakers and 3,000 professionals in education from 20 countries gathered to exchange their views on the future of international education. The Blue Book Series of China's International Schools released on the Forum provide authoritative interpretation on the hot topics of international schools of the year offering first-hand data and comprehensive information for professionals and researchers in the domain.
2020 Integrate to Innovate Forum
Please scan the QR code below for watching live streaming online!